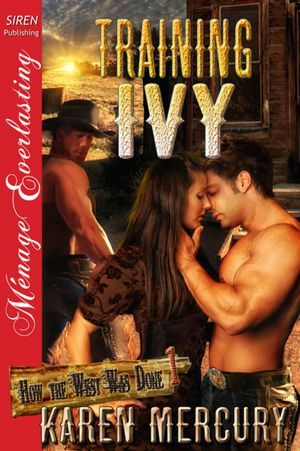 Title:
Training Ivy
Author:
Karen Mercury
Publisher:
Siren-Bookstrand
Sub-Genre:
Historical Romance
Length:
171 pages
Heat Rating:
Erotic
Rating:
4 Cups
Available at:
Amazon
|
B&N
|
Siren-Bookstrand
Blurb:
The railroad thunders into the open wilds of Laramie City, Wyoming, ushering in chaos and psychic upheaval for Deputy Neil Tempest who is attempting to bring order to the lawless Hell on Wheels town.
Ivy is the first of four Hudson daughters to break away from her dull life back East. A spinster after caring for her dying mother, she arrives amidst a flurry of strange murders. When the spirit of a rancher's murdered wife sets her sights on Neil, no one can tell if her clues are a help or a hindrance.
They team up with Captain Harland Park, a dashing and adventurous surveyor. Booted from the British Army for writing a scandalous report on male brothels, Harley seduces the couple with tales from an Arabian love manual. They take spirit photographs and engage in lively séances, and a whirlwind of prophecies guides them into intrigue and love.
Molly's Review:
Ms. Mercury is a new-to-me author, but this will most definitely not be the last time that I read her work! While I will admit that the beginning of this first book was slightly confusing for me, it did progress nicely, captivating me to the very end. I fell in love with Ivy, Neil and Harland; each working their way into my heart and gripping it.
Neil, an Aussie and head of security in the new Laramie City, is getting quite frustrated with hearing about all these prophecies from a half-wit named Zeke. He keeps rattling on about a "seer" and the prophecies that he's witnessing as coming true. Neil just wants to progress with the railroad coming to town. But, then he lays eyes on gorgeous Ivy Hudson.....and the handsome surveyor Harland Park. Sadly, now he has to invest time in investigating a murder....and silly seances' that Mr. Park and Miss Hudson insist on partaking in. All he wants is to find the murderer, court Ivy......and seduce Harland?
Ivy. Now that is a character who, at 31, is quite innocent in most all matters of sexual feelings. Tired of being compared to her 3 sisters, she travels to Laramie to live with her father there. What she finds is odd-minded men, spiritual photography, seances', murders.....and two of the sexiest men she's ever laid eyes on. She definitely can't deny the attraction she feels to both men; or the way her heart feels when she sees them together in the most perverse ways.
Then there's Harland Park. That character is quite complex, to say the least! Delving in more carnal desires than most, and having practice in sexual ways (both with men and women!), has left him very lustful for the fairer sexed maiden, Ivy.......and the good looking head of security. But, with all sorts of paranormal occurences, he's trying to seduce Neil...and Ivy. He keeps drifting to thoughts of the two people who now hold his affection and how he can teach them so much.
When Harland corners Neil in the kitchen, he shows him that there's something to the attraction between them. Together, they form a bond with Ivy, working together to solve a murder....and train the innocent young woman about passion and love.
This 4 star book is filled with humorous moments, hot, sexy passion, paranormal occurences and mystery. Just when you think you're about to know who the murderer is, something new comes into play for these 3 amazing characters; be it a new clue or new passion. Definitely recommended to all who love sexy western men, beautiful women and a passionately sizzling plot line. I can't wait to get to book 2 in this sizzling, sexy historical series!
--
**Disclaimer: This book has been provided to Coffee Beans & Love Scenes ("CBLS") Reviews free of charge by the author in exchange for an honest review of this title. No money has been exchanged for this review. This review reflects the opinion of the individual reviewer and does not necessarily reflect the opinion of any other CBLS reviewer or this blog's owner, editor or administrator.