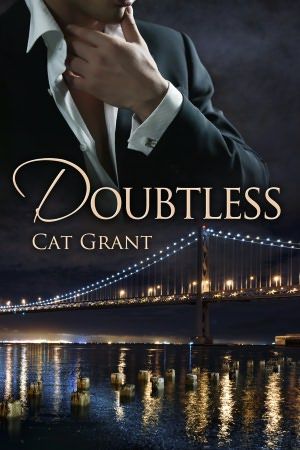 Title:
Doubtless
Author:
Cat Grant
Publisher:
Riptide Publishing
Sub-Genre:
Contemporary Romance
Length:
53 pages
Heat Rating:
Erotic
Rating:
5 Cups
Available at:
Amazon
|
B&N
|
Riptide Publishing
|
All Romance eBooks
Blurb:
On the surface, Steve Campbell seems to have it all: a beautiful home, a snazzy car, and a dream job as one of the country's top 3-D optics researchers. But underneath, he's restless and dissatisfied, tired of empty encounters with leggy lab assistants and endless evenings alone.
A chance meeting with a handsome escort lifts Steve's spirits and opens his eyes to his long-repressed attraction to men—and his love for his best friend and business partner, Connor Morrison.
Connor might've loved Steve like that once, but now it's too late for their happily ever after; Connor's about to ask his boyfriend to marry him. Fortunately, it's never too late to learn about yourself, and maybe Steve can find a happy ending on his own.
Molly's Review:
Having just read Grant's
Priceless
, the first book in her Irresistible Attraction series, I couldn't wait to get my hands on Steve's story. He played a (major!) secondary role in
Priceless
, but I just knew there was more to him. Sitting down and opening the story I was, once again, swept away by the incredible happenings of m/m romance that Ms. Grant creates. This time she mixes in the deep emotional level of finding out one's true self and coming to terms with the outcome.
As much as I loved Connor and Wes's story, I'm totally invested in Steve's. My heart heart went out to him so many times in this short story. After an incident in the shower, Steve finds himself questioning his life. When a chance encounter at a local bar helps him put his life in perspective, he finally learns who he truly is. But, sadly, it doesn't help him with the true feelings he has in his heart. A man who sells his time and body, teaches Steve that letting go and embracing life, along with some encouragement from his best friend, will help him to be happy.
I don't want to give away spoilers, so I'll stop there. Once again, Cat Grant has written an absolutely incredible m/m romance. While this story's ending left me nearly in tears, I'm on the edge of my seat, waiting for the next book in this series. My fingers are crossed that we get to see more of the sexy Steve!
--
**Disclaimer: This book has been provided to Coffee Beans & Love Scenes ("CBLS") Reviews free of charge by the author in exchange for an honest review of this title. No money has been exchanged for this review. This review reflects the opinion of the individual reviewer and does not necessarily reflect the opinion of any other CBLS reviewer or this blog's owner, editor or administrator.