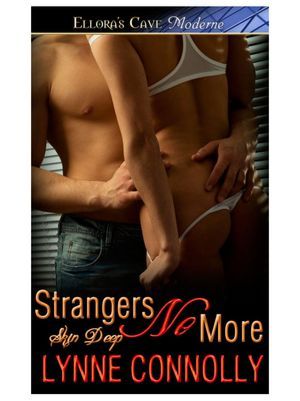 Title:
Strangers No More
Author:
Lynne M Connolly
Publisher:
Ellora's Cave
Sub-Genre:
Contemporary Romance
Length:
98 pages
Heat Rating:
Erotic
Rating:
4.5 Cups
Available at:
Amazon
|
B&N
|
Ellora's Cave
|
All Romance eBooks
Blurb:
Strangers in the dark, meeting for anonymous, hot and dirty sex. That was the way it was meant to be. But Whitney is increasingly drawn to her Stranger, more than she should be. Even if once he sees her face, he'll run screaming. Then Whitney receives an offer from the Durban Trust for cosmetic surgery. Although she knows looks don't matter, they've cost her too many promotions. She has to change her face to change her life.
Her colleague Jay—reporter and thriller writer—has a secret to match Whitney's. He's her Stranger. He doesn't give a damn about her face, but how does he tell her? Now Jay has two secrets. He put her forward for the surgery. Once he tells her, she'll kick him out of her life, but he has to take that chance. He only wants her to get the job. Because she already has him. Hook, line and sinker.
Sam's Review:
A hot intriguing read from the very beginning. The basis of this story is two strangers meet in a hotel for anonymous sex. They never see each other and they have sex. Whitney and her stranger share a connection but she doesn't know who he is. Jay, a colleague and friend however, does know who she is. One day Whitney is offered the chance for funding for cosmetic surgery and little does she know Jay is behind the whole thing.
Considering this story is very short , I thought it was brilliantly put together. I loved the chemistry between Jay and Whitney and especially when they showed the build up to the anonymous sex and how each character deals with it in there own separate way. The way Lynne Connolly wrote Jay was perfect. He wasn't an unbelievable character with his attraction toward Whitney.
I would recommend this book. It is a short read so the storyline moves rather quickly but overall is a beautifully written piece.
--
**Disclaimer: This book has been provided to Coffee Beans & Love Scenes ("CBLS") Reviews free of charge by the author in exchange for an honest review of this title. No money has been exchanged for this review. This review reflects the opinion of the individual reviewer and does not necessarily reflect the opinion of any other CBLS reviewer or this blog's owner, editor or administrator.