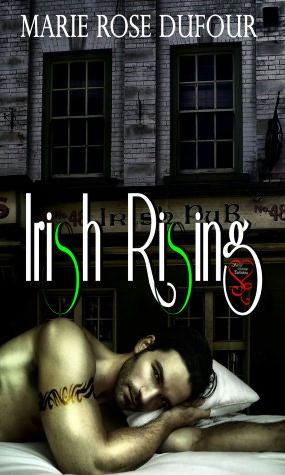 Title: Irish Rising
Author: Marie DuFour
Sub-Genre(s): Contemporary, Erotic
Publisher: Secret Cravings Publishing
Publication Date: February 13, 2012
ISBN #: B007BEPSHI
Format: eBook from Author
Reviewer: tsteinerid
Rating: 3.5 Cups
Blurb:*
Famous romance writer, Kim Green went to Ireland with her two cousins to research the setting of her new book and have some quality girl bonding fun. She's in the business of writing about love. She didn't expect it find her on the street in a sleep Irish town with a sexy, "I want to drown in your chocolate eyes" pub owner.

Duncan Murphy never believed in the old family legend. The idea a trapped mermaid granted his family the ability to recognize their one true love was absurd to him until he spots a sexy American across the street from his pub. Something deep within him recognized her as his other half

They're drawn together in an explosive first encounter. Life is blissful until a misunderstanding threatens to tear them apart. Is their fragile newfound romance something legends are made of or the misguided belief in an ancient fantasy?
Review:
I have to admit, I have a passion for all things English, Irish and Scottish. When I seen this title I was like – MINE!!
Kim is on a working vacation. She is traveling Ireland and doing research on the land, people and history. After too much time with her cousins shopping, she decides it's time for some alone time and heads out to explore. She never expected what she found.
Way, way, way back when, Duncan's grandfather saved a mermaid and was granted a great boon, the ability to recognize the love of your life. While as a child he loved to hear the tale repeated, but as a grown man, he doesn't have time for fantasy, he has a pub to run. That all changed the moment he sees a woman across the street. A woman he is instantly attracted to.
While both went into this relationship hesitantly, it didn't take long for things to change. Their passion was explosive and very steamy. Both characters ventured outside of their comfort zones and it was fun to experience it with them.
While this is a good story, the misunderstanding just didn't seem that dire to me as the blurb indicated. I was expecting an "oh my goodness" moment, that was never delivered. The rest of the story is enchanting and this is one short story I wish would have been longer. I could see myself enjoying more moments with these two characters.
Irish Rising is a quick entertaining escape. If you want a touch of Irish, Duncan is your man and Irish Rising the book to read.
Available at:
Amazon (Kindle Edition)
Barnes & Noble (Nook book)
--
*Blurb Courtesy of Amazon
**Disclaimer: This book has been provided to Coffee Beans & Love Scenes ("CBLS") Reviews free of charge by the author. No money has been exchanged for the review of this title. This review reflects the opinion of the individual reviewer and does not necessarily reflect the opinion of any other CBLS reviewer or this blog's owner/administrator/editor.