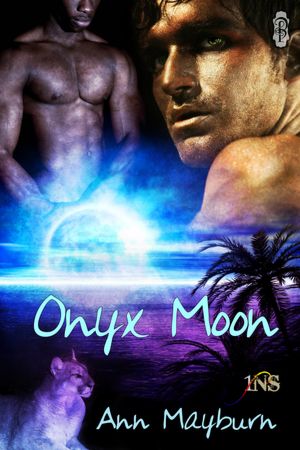 Title: Onyx Moon
Author: Ann Mayburn
Sub-Genre(s): Gay, GLBT, Romance, Paranormal, Erotic
Publisher: Decadent Publishing
Publication Date: November 19, 2011
ISBN #: B006AWHIA2
Format: eBook from Author
Reviewer: Toni
Rating: 5 Cups
Blurb:*
Marcus Galin has searched the world for a very special kind of werepuma—a beta who has also been blessed by the Goddess as a shaman. His prayers are finally answered when Madame Eve of the 1Night Stand matchmaking service arranges for him to meet a man in the Blue Mountains of Jamaica that fits his requirements. Only problem: Marcus is terrified of magic and doesn't know if he can overcome his fear enough to open his heart to a stranger that his Pride and his heart desperately need.

Vashan Dulphin has spent all of his life as an outcast among his people. By a twist of fate and genetics at puberty, he became a werejaguar instead of a werepuma, much to his family and Pride's disgust. Since then he has lived in solitude among his people, tolerated only because of his power as both a beta and a shaman. Desperate for a chance to find a home where he will be loved, he calls on the aid of Madame Eve, who sends him Marcus.

Together the men will have to overcome their fear and self-doubt for a one-in-a-million chance at love.
Review:
I am so enjoying Ann Mayburn's stories in the 1 Night Stand series.  They can also be found as a sub series she calls Prides of the Moon.  I enjoy that she continues to expand on the storyline, yet the all the stories can be read alone.  
I met Marcus in the prior 1NS story, Turquoise Moon.  I never dreamed that he would be next in line for a story.  He is to be the next Alpha of the Onyx Moon Pride.  His pride is in need of a shaman, and Marcus is in need of a beta.  Since he has a deep distrust for magic, his only option is to find a beta shaman that he can bond with and know his mates heart and soul.   
For several years all Vashan has known is pain and loneliness.  Since the moment of his first shift he has been a pariah among his people.  All their love and trust was ripped away from on that day.  Now all he wants is to belong.  He signs up with Madame Eve's service.  He hopes to meet a mate and become part of a pride.  
Their meeting is electrified, but quickly turns ugly.  As Marcus tries to earn back Vashan's trust, they open up and find what each other was missing.  
I enjoyed their story.  Ms. Mayburn did a great job conveying their past pain in such a short time.  The one bummer about short stories is the inability to continue a great storyline.  My only hope is soon Ms. Mayburn will continue their journey to find their next Alpha.  
Onyx Moon is a sexy hot read about two men who overcome their pasts to be able to start their futures.  You can't help but cheer them on and fan yourself after their hot and steamy 1 Night Stand.
Available at:
Amazon (Kindle Edition)
Barnes & Noble (Nook book)
--
*Blurb Courtesy of Amazon
**Disclaimer: This book has been provided to Coffee Beans & Love Scenes Reviews free of charge by the author. No money has been exchanged for the review of this eBook. This review reflects the opinion of the individual reviewer and does not necessarily reflect the opinion of the other C&R reviewers or this blog's administrator/editor.