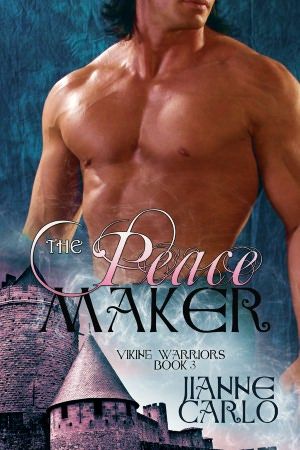 Title:
The Peacemaker(Viking Warriors Book 3)
Author:
Jianne Carlo
Publisher:
Etopia Press
Sub-Genre:
Historical Romance
Length:
83 pages
Heat Rating:
Erotic
Rating:
4 Cups
Available at:
Amazon
|
B&N
|
Etopia Press
|
All Romance eBooks
Blurb:
Can the Peacemaker tame a warrior bride?
When Njal the Peacemaker meets his bride-to-be, she's dressed in breeches, flaunting a crossbow, and covered in boar's blood. What he needs is a woman skilled with words, a woman with exquisite manners, a cunning woman capable of maneuvering the political intrigue of a king's court. Not this rough country lass whose skill with a crossbow rivals his.
Bettina has no desire to wed a peacemaker. She needs a Viking warrior who'll strike fear into the hearts of her enemies, a man of strength who can thwart her step-uncle's theft of her castle's treasures. But Nyal the Peacemaker wields words, not weapons—until their wedding night proves he's also a man of passion. Neither can resist the heat of their coupling, but can a man who values peace be enough for a warrior bride?
Emma's Review:
Njal is known as the Peacemaker, renowned for his diplomatic skill. Bettina is warrior woman bent on seeking vengeance. When the two meet, it's a less than auspicious occasion. They are forced to marry and try to forge an understanding. Neither is what the other wanted, but ultimately, they find a passion neither knew existed.
I love this series. I'm a big fan of erotic historical romance and this author is one of the reasons why. Bettina is an awesome character and while Njal is a bit stuffy, I learned to appreciate his finer qualities. There's plenty of steamy sex, but Bettina and Njal work well outside the bedroom too. The dialogue and setting lend the 'Viking' to this story. This is entertaining and saucy read. I've enjoyed watching the brothers meet their matches and can't wait for the next one.
--
**Disclaimer: This book has been provided to Coffee Beans & Love Scenes ("CBLS") Reviews free of charge by the author in exchange for an honest review of this title. No money has been exchanged for this review. This review reflects the opinion of the individual reviewer and does not necessarily reflect the opinion of any other CBLS reviewer or this blog's owner, editor or administrator.