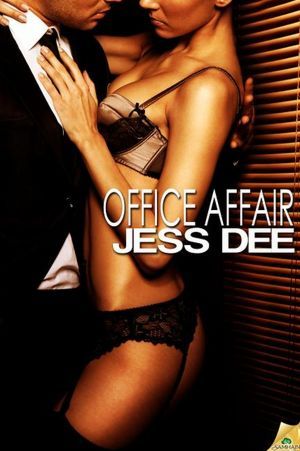 Title:
Office Affair
Author:
Jess Dee
Publisher:
Samhain Publishing
Sub-Genre:
Contemporary Romance
Length:
178 pages
Heat Rating:
Erotic
Rating:
5 Cups
Available at:
Amazon
|
B&N
|
Samhain Publishing
|
All Romance eBooks
Blurb:
All work and no play? Not for this girl. Not anymore
.
Melissa Sparks has had enough. Enough of being an overachiever, enough of having no social life, enough of being lonely. Just this once she wants a change. Something different. Something that looks very much like her business associate, Ben Cowley.
Ben is all alone in the deserted offices of Preston Elks. He's gorgeous, he's single and he's been her secret fantasy for the last two years. It's a split-second decision, but there's no going back.
When Ben looks up from his desk, the last thing he expects to see is his too-serious, straight-laced colleague stripping naked. It's been a year since his last relationship ended, and though he's still picking up the pieces, Melissa throws his carefully balanced world off its axis. So does her offer: a brief affair, no strings attached.
Right about the time he realizes a simple affair will never be enough, she's back in professional mode—and clearly as distant as ever. Now it's up to him to show her that what they have is no fluke…and he'll do whatever it takes to convince her. Even if it means inviting another man into their bed.
Product Warnings
This book contains a man haunted by his past decisions, a woman determined to succeed, sex hot enough to steam up every office window on the block, and a voyeur who gets off watching those windows steam up.
Sam's Review:
Wow, Wow and more wow. I never thought I'd enjoy this book half as much as I did but Jess Dee took me by surprise. I haven't read many of this author's work but let me tell you, I'll be looking out for more.
One night after work Melissa Sparks walks into her business associates office and seduces him. Ben Cowley is surprised by Melissa's frank speech but he wants her and so they enter into an office affair. The chemistry between these two characters were smoking hot. I felt their sexual tension. When the element of voyeurism was added, this aspect only added to the dynamics of the story. I liked how we saw Melissa grow as a character and become more comfortable when she spent more time with Ben. This relationship starts off as sex, which gradually changes over time. This makes the romance more believable.
When the third character, Will, is introduced, this adds another dimension to the story and also shows more of Ben's insecurity which I liked. This is not always explored in romance when a menage is added. Jess Dee approaches it well as I felt it was well written but did not consume the whole of the book.
Overall, this was an exceptional story with memorable characters and a wonderful storyline.
--
**Disclaimer: This book has been provided to Coffee Beans & Love Scenes ("CBLS") Reviews free of charge by the author in exchange for an honest review of this title. No money has been exchanged for this review. This review reflects the opinion of the individual reviewer and does not necessarily reflect the opinion of any other CBLS reviewer or this blog's owner, editor or administrator.