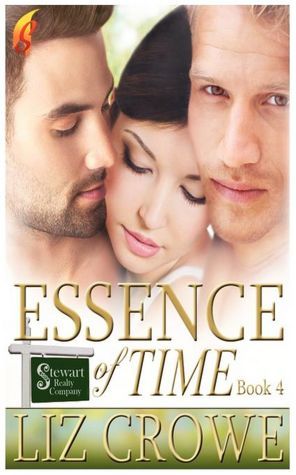 Title:
Essence Of Time
Series:
The Realtors, #4
Author:
Liz Crowe
Publisher:
Tri Destiny Publishing
Sub-Genre:
Contemporary Romance
Length:
332 pages
Heat Rating:
Erotic
Rating:
5 Cups
Available at:
Amazon
|
B&N
|
Tri Destiny Publishing
|
All Romance eBooks
Blurb:
For years, Rob Frietag has resisted anything resembling a true emotional connection, preferring instead to explore life, and his own desires, without committing to anyone for very long. The reason remains known only to a few, among them Jack Gordon, his college cohort in female conquests, and life-long friend. At thirty-seven, while he is close to achieving his career goal, head chef at a five-star restaurant in Chicago, he is still very much alone.
After an intensely emotional relationship with Suzanne Baxter in Ann Arbor, Blake's heart is left shattered. Completely broken by what he believes was his one true love, he arrives at a Chicago food and beer festival, prepared to drink his sorrow away. When the two men meet, their lives change forever. But time is of the essence. When Rob acknowledges his true feelings, he will stop at nothing to keep them together, including finding a surrogate mother for the child Blake so desperately wants.
Lila Warren is recovering from a nasty divorce, needs cash and believes carrying their baby will fulfill her in ways marriage never did. None of them could suspect that the connection they share would provide the final emotional key to their life-long puzzle.
When Rob's secret is revealed, time becomes the one luxury they don't have, setting in motion a chain of events that destroys the fragile illusion of happiness for them, and everyone who loves them.
Denise's Review:
The Essence of Time by Liz Crowe is 4th book in her Realtors Series; it's arguably the best of the 4. Liz does an amazing job creating backstory for characters from Floor Time, Sweat Equity and Closing Costs. It provides true prospective into many of the decisions they make and made in the prior books; decisions that on the surface were beyond frustrating but with the backstory make so much sense. Liz's ability to develop more than just two main characters provides the Essence of Time with so many layers. You will enjoy watching them all interact as their story develops. This story has wonderful and very sexy love scenes that intertwine with the raw emotions associated with building and maintaining a long-term relationship. This book is engaging; a true can't put me down read. Liz's writing compels you to become engaged with her characters; you will find yourself truly vested in their relationships and well being. It is the kind of book that sits with you after you are done; sitting and wanting more. I highly recommend this book and the other three in the series; prior to reading Fifty Shades a few months ago I had not read in years (everyone knows the busy life drill); I then started to read all the time; tried a few books but nothing special until I found Liz's The Realtors Series, it is truly captivating! I think I am more obsessed with these characters than I was with Christian. Liz's character developing is great; and her female characters are strong and relatable to most women. Her male characters strong, vulnerable, and driven to show they women in their lives how much they need to love them. Liz pleased keep up the wonderful story telling!
--
**Disclaimer: This book has been provided to Coffee Beans & Love Scenes ("CBLS") Reviews free of charge by the author in exchange for an honest review of this title. No money has been exchanged for this review. This review reflects the opinion of the individual reviewer and does not necessarily reflect the opinion of any other CBLS reviewer or this blog's owner, editor or administrator.