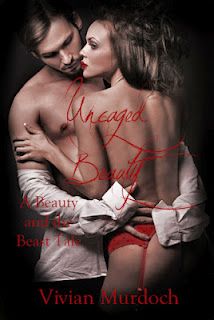 Title:
Uncaged Beauty: A Beauty and the Beast Tale
Author:
Vivian Murdoch
Publisher:
Wild Orchid Press
Sub-Genre:
BDSM Romance
Length:
37 pages
Heat Rating:
Erotic
Rating:
4 Cups
Available at:
Amazon
|
B&N
|
Wild Orchid Press
|
Smashwords
Blurb:
Dark Night Productions is the place where the millionaires play. Here, whatever you want is provided: sometimes at a price. When Isabel discovers that her father lost a bet on a fight against The Beast, she is faced with two choices: let her father remain prisoner to the corporation, or take his place.
Little does she know that the owner of the corporation is also head Dom at his mansion, The Rose and the Thorne. She is plunged head-first into an erotic world of BDSM. What starts out as a mission to save her father soon turns into a battle for her will.
Emma205's Review:
This story was a quick and sexy rendition of the old Beauty and the Beast tale. In this interpretation, Alexander is not physically a beast but his inclinations and ability in the fight ring mark him as one. Isabel is innocent and feisty. She agrees to take her father's place after he loses everything to a bet against The Beast. Isabel intrigues and confounds Alexander. He finds himself breaking his own rules. Their interactions are surprisingly touching in a spanking, bondage kind of way. Although I would have like more detail about this world, this was quite an entertaining read. I'd recommend it to anyone looking for something short, hot and kinky.
--
**Disclaimer: This book has been provided to Coffee Beans & Love Scenes ("CBLS") Reviews free of charge by the author in exchange for an honest review of this title. No money has been exchanged for this review. This review reflects the opinion of the individual reviewer and does not necessarily reflect the opinion of any other CBLS reviewer or this blog's owner, editor or administrator.