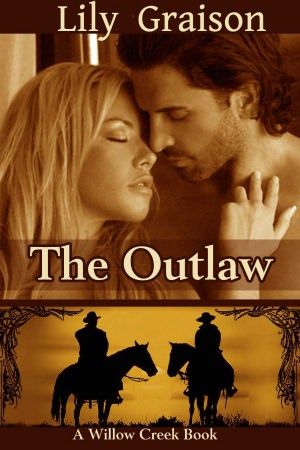 Title:
The Outlaw
Author:
Lily Graison
Publisher:
Alinar Publishing
Sub-Genre:
Western Historical Romance
Length:
202 pages
Heat Rating:
Sultry
Rating:
4 Cups
Available at:
Amazon
|
B&N
|
Alinar Publishing
Blurb:
Sarah Hartford always dreamed of a grand adventure. She just never expected to find it in the arms of an outlaw. When her father's bank is robbed, Sarah doesn't make the gunslingers' escape easy. Putting her own safety behind those she hopes to protect backfires when she's kidnapped by one of the escaping men. Now her only hope for survival lies with the same arrogant man who laughed at her while staring down the barrel of her gun.
Colton Avery spent months planning the perfect heist, every detail fine tuned and executed with precise timing. Nothing could go wrong. That is until he comes face to face with a determined woman holding a shotgun. She aimed at his head and never flinched when she took a shot at him. He wanted her the moment the smoke cleared and he saw her face.
Robbing the bank, and handing over the gang of notorious outlaws to US Marshals, would be routine and boring. Sarah Hartford made it anything but. Taming the woman who stole his heart the instant he saw her was a challenge he was more than willing to take on. All he has to do now is escape the gang of outlaws he just double-crossed, hideout from an Indian raiding party and elude the town marshal who just happens to be his little hellion's new fiancé.
Sam's Review:
Lily Graison has created a wonderful sequel to her Willow Creek romance series. The second book is based on the outlaw, Colton Avery and the Sarah, a woman who gets kidnapped during a robbery.
The general plot is that Colton is an outlaw robbing banks and travelling with a rough gang. When one of the members takes Sarah during a robbery, Colton must protect her from their unscrupulous intentions. During his protection the sparks that fly between them, ignite the page and take you on a wonderful journey of two people discovering love.
I didn't know what to expect from The Outlaw, as second books never usually live up to the expectations of the first. I did thoroughly enjoy this book and felt Lily Graison had created some wonderful characters. I love who fiery Sarah was, even when she was thrown into danger. She refused to back down and never gave up. The attraction between Colton and Sarah is not instant but grows as the story develops. I think the scenes with them when they're fighting their attraction are quite funny and charming.
Overall, I found this a delightful read and it makes the reader look forward to the next installment in the series.
--
**Disclaimer: This book has been provided to Coffee Beans & Love Scenes ("CBLS") Reviews free of charge by the author in exchange for an honest review of this title. No money has been exchanged for this review. This review reflects the opinion of the individual reviewer and does not necessarily reflect the opinion of any other CBLS reviewer or this blog's owner, editor or administrator.