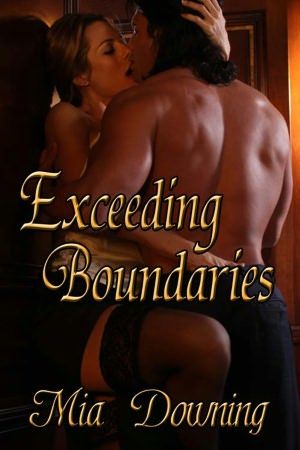 Title:
Exceeding Boundaries
Author:
Mia Downing
Publisher:
The Wild Rose Press
Sub-Genre:
Contemporary Romance
Length:
119 pages
Heat Rating:
Erotic
Rating:
5 Cups
Available at:
Amazon
|
B&N
|
The Wild Rose Press
|
All Romance eBooks
Blurb:
Lawyer Megan Connors wants a man, one that will wine her, dine her, and help her to forget the pain of a date rape she experienced as a teen. Her boss, Adam Wentworth, is just the man--tall, dark-haired, blue-eyed, and a confirmed player. He's perfect for a weekend of non-committal sex that will entice her inner woman out to play for good. So Megan devises a plan for seduction, one that will lure Adam into her arms.
Adam has been attracted to Megan since day one, but his preference for dominance and her fragile air kept him at bay. Megan's kiss under forgotten mistletoe is just the fuel his lust needs to exceed the boundaries she once put in place. He's game, but he wants more than a weekend with the vulnerable yet sexy Megan.
When the weekend is over, will Megan allow the past to keep her bound or can Adam convince her she's strong enough to submit?
Sam's Review:
This is the first book I've read of Mia Downing and I have to say I don't want it to be my last.
Megan Conner experienced a bad beginning at the hands of her brother's best friend. Since then she hasn't been able to get close to a man and just once she'd like to be intimately close. Adam Wentworth is her boss and after his reputation is less than savoury she picks him. However, Adam isn't all that he seems and Megan is in for a big surprise.
I love the internal fight Megan has to deal with and it's not something that is easily resolved and takes a great deal of the book for her to come to terms with everything that happened. Adam is a favourite character of mine. There is far more to his character than is first described. Mia Downing managed to touch on a subject that is incredibly tense and executes it perfectly.
I thoroughly enjoyed this read as it had everything going for it.
--
**Disclaimer: This book has been provided to Coffee Beans & Love Scenes ("CBLS") Reviews free of charge by the author in exchange for an honest review of this title. No money has been exchanged for this review. This review reflects the opinion of the individual reviewer and does not necessarily reflect the opinion of any other CBLS reviewer or this blog's owner, editor or administrator.