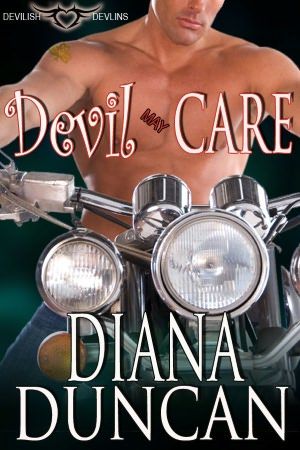 Title:
Devil May Care
Author:
Diana Duncan
Publisher:
self published
Sub-Genre:
Contemporary Romance
Length:
268 pages
Heat Rating:
Spicy
Rating:
5 Cups
Available at:
Amazon
|
B&N
Blurb:
Free-wheeling rogue Flynn Devlin roars into Marisa Matheson's well-ordered life on a Harley, with a devil-may-care attitude, a body made for sin, and an Irish lilt that could charm the panties off a nun.
Exactly the kind of bad boy she doesn't need.
Except Flynn also possesses magic talent with a camera—something she desperately needs to keep her wedding planning business from tanking after her regular photographer is injured.
Flynn Devlin is the only thing standing between Marisa and complete financial ruin.
He's also hiding a damning secret from her. All in the name of love, but still...Flynn knows that when the lass who's capturing his heart as easily as he captures images finds out he's not quite what he claims to be, all hell will break loose.
And his devil-may-care attitude doesn't include his heart.
Because this devil doesn't want just a one-night fling with his stubbornly independent lass…he wants forever.
Tsteinrid's Review:
Flynn Devlin is on a mission. One of his best friends needs his help and he will do all he can to help him. His buddy was there for him during his dark times and now it is his chance to return the favor. No matter what, he will complete this task.
Marisa Matheson is goal oriented, strong willed and focused. She must make her business a success and she will do whatever is required to make it happen. Unfortunately, one wrong spill from her photographer and all her plans may go up in smoke. On the wedding day of her most important client to date, she is in need a replacement photographer and fast. In rides Flynn on his Harley. Even with all his dark biker looks and sultry ways, he blows the photos out of the water. He also lights a fire in Marisa that she has no time or desire to fan. She can't fall victim to his charming ways. She made that mistake once, hurting people in her life. She won't make that same mistake again.
Who would have thought that the carefree Flynn would fall for the uptight reserved Marisa? All he knows is that she stirs feelings in him he is not about to ignore. He will use all his devilish charm to unleash the passionate woman he knows is buried within. He has a long hard road ahead of him. She is the key to helping his friend, but by doing so he may ruin his chances with her.
What an adorably sexy story! I don't know how Ms. Duncan does it, but so far with the Devilish Duncan's she has made me laugh, sigh and fall in love with the whole lot of them. I was captivated with
Deal with the Devil
and she did it again with
Devil May Care
. I love Flynn's perseverance and charm and admired Marisa's strength and devotion. Not to mention Marisa has two adoptive brothers that I want to call my very own too.
I enjoyed every page and when I was done, I wanted…no
needed
, more. I can't get enough of this family. I made the mistake of reading Brody's little tidbit,
Devil to Play
, at the end. Now I am sad that I have to wait. I want to hunt Ms. Duncan down and make her write more, more, more and faster too. Keep up the great work! You have a lifelong fan and I can't wait to enjoy more of your fun, steamy, sexy writing.
--
**Disclaimer: This book has been provided to Coffee Beans & Love Scenes ("CBLS") Reviews free of charge by the author in exchange for an honest review of this title. No money has been exchanged for this review. This review reflects the opinion of the individual reviewer and does not necessarily reflect the opinion of any other CBLS reviewer or this blog's owner, editor or administrator.