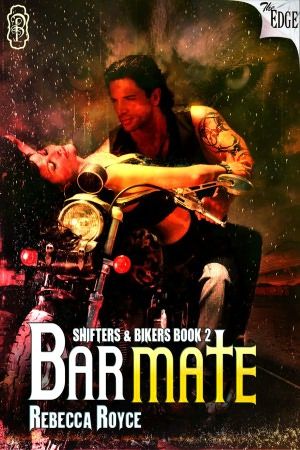 Title:
Bar Mate (The Edge Erotica, Shifters & Bikers, series)
Author:
Rebecca Royce
Publisher:
Decadent Publishing
Sub-Genre:
Erotica Romance
Length:
13 pages
Heat Rating:
Erotic
Rating:
3.5 Cups
Available at:
Amazon
|
B&N
|
Decadent Publishing
|
All Romance eBooks
Blurb:
Wolf-shifter Yvette Nelson is incredibly bored with her job as a waitress at Gunther's Bar. Until one night, when a man she's never met enters the bar. He makes her wolf want to come out and play—she has to have him.
Stark just wanted a beer. But Yvette brings out yearnings in him he didn't even know he had. Together, they'll find that letting go of inhibitions can open up all kinds of fun times, like a chance at forever.
Meingee's Review:
Yvette is just looking to scratch an itch, at least that is what she thinks she wants when she brings a man to the back office but things quickly change once they are in the thick of things. Little did they know but this little escapade would change their lives forever. Neither one expected such strong feelings let alone the finale outcome.
This is another quick and hot read in this new series by this author. She brings us two new characters and quickly puts them together. The attraction sizzles between these two right from the begining and grows into so much more in the end.This is a sexy read that gives us a glimpse into their lives and has the reader wondering just what happens after we read that last page. I enjoyed meeting these two characters and would love to see more of them and how Yvette handles just what life has thrown at her. She seems like a great woman ready to deal with what ever comes her way.
Right away we are pulled into this story and kept entertained all the way to the end. Once again Rebecca Royce brings us two wonderful characters that are fated to be together and shows us that love triumphs over it all. This book is a nice addition to this series and I cannot wait to read the next one in line.
--
**Disclaimer: This book has been provided to Coffee Beans & Love Scenes ("CBLS") Reviews free of charge by the author in exchange for an honest review of this title. No money has been exchanged for this review. This review reflects the opinion of the individual reviewer and does not necessarily reflect the opinion of any other CBLS reviewer or this blog's owner, editor or administrator.