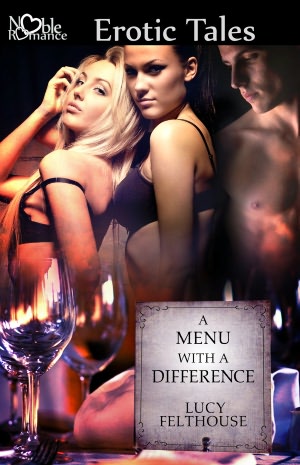 Title: A Menu With A Difference
Author: Lucy Felthouse
Sub-Genre(s): Erotic, Menage
Publisher: Noble Romance
Publication Date: December 5, 2011
ISBN #: B006IWNE4S
Format: eBook from Author
Reviewer: Dawne
Rating: 4 Cups
Blurb:*
When Jed and Annette spend a weekend in a luxury hotel, they're planning to take full advantage of the hot tub and large bed - preferably with a third party. Annette's never been with another woman before, but she's eager to experience some Sapphic delight. When the couple meets waitress Tamara at the restaurant they're lunching at, they agree she's perfect in many ways; but is she on the menu?
Review:
Felthouse double surprises me with this menage. Annette and Jed, happily committed couple but yet very open-minded about their relationship think they have found the perfect 'bed mate' for the might.
The first surprise comes in the way the duo think they manipulate sweet Tamara. The second turn of events, Tamara knew all about it and wanted the same...a menage. A night of unadulterated sex. The trio get everything they want and more. While the sex scene is a little quick (the book is only 13 pages), I praise Felthouse for creating a perfect night of shared love, passion and eroticism.
Felthouse delights my desires and satisfies my erotic craving in this short and extremely fast read. I'd love to see her elaborate and make this trio a yearly holiday event. The last two sentences "We'd definitely be returning to that restaurant. It had a menu with a difference, and our dessert had been quite delicious!" left me laughing and hungry for more.
Available at:
Amazon (Kindle Edition)
Barnes & Noble (Nook book)
--
*Blurb Courtesy of Amazon
**Disclaimer: This book has been provided to Coffee Beans & Love Scenes Reviews free of charge by the author. No money has been exchanged for the review of this eBook. This review reflects the opinion of the individual reviewer and does not necessarily reflect the opinion of the other C&R reviewers or this blog's administrator/editor.