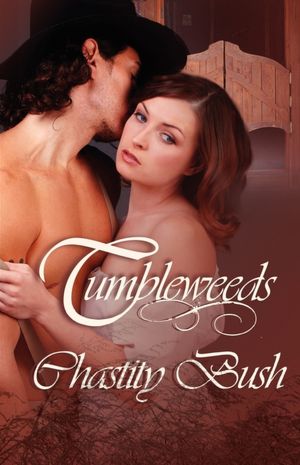 Title: Tumbleweeds
Author: Chastity Bush
Sub-Genre(s): Western, Historical, Contemporary, Erotic
Publisher: Decadent Publishing
Publication Date: April 20, 2011
ISBN #: B004XJ4RFS
Format: eBook from Author
Reviewer: Sam
Rating: 5 Cups
Blurb:*
As the adopted daughter of the town's madam, Strawberry Meadows has seen it all. After ten years of living in Lily Bell's saloon she believes all men are the same: wild cads, cheating husbands, tumbleweeds, and outlaws. Marriage is not an option, but when Berry comes face to face with the town's new sheriff, she finds herself fighting feelings she has never before experienced. With friends and family playing matchmaker, controlling the urge to throw herself into the lawman's arms proves more difficult than she ever imagined.

Sheriff Tavis Wilks came to Chamberlin to begin life anew. Perhaps find a wife and settle down. Unfortunately, not one of the women in the town caught his eye or held his interest, until he met Berry. Something about her set his blood on fire. From her hot tempter to her unwillingness to let him close, he wants her, needs her. The only thing stopping him from making her his own is Berry herself.

When an old enemy rambles into town and takes a special interest in Berry, Tavis must scramble to rescue the only woman he has ever loved before his future is destroyed by his past.
Review:
Tumbleweeds is an enthralling read from the moment you start the first page. After living in Lily Bell's Saloon, Strawberry Meadows no longer believes in men or marriage. She rejects every suitor even though Lily and some of the other girls try to get her fixed up for marriage. Strawberry wants nothing to do with it and refuses every single suitor. That is until the new Sheriff Travis Wilks walks into the saloon. The chemistry between them is instant and fiery and the reader is captured by their time on the page.   
Strawberry and Travis are really beautifully written and the love that develops is pure class. Strawberry doesn't want to fall in love and she fights her feelings for Travis but he is on a mission to seduce her. He doesn't want her as a quick tumble but for his wife. I loved the reaction of the local town's people and how they all accepted Strawberry. What I found very funny was how they were all rooting for Travis. Tumbleweeds, has so much for a reader to enjoy, two brilliant characters, romance, charm, action and adventure and a chance for the hero to show not every man needs to visit a saloon when he's with the woman he loves. This is one thoroughly enjoyable reads and one I can easily say is a keeper. 
Available at:
Amazon (Kindle Edition)
Barnes & Noble (Nook book)
--
*Blurb Courtesy of Amazon
**Disclaimer: This book has been provided to Coffee Beans & Love Scenes Reviews free of charge by the author. No money has been exchanged for the review of this eBook. This review reflects the opinion of the individual reviewer and does not necessarily reflect the opinion of the other C&R reviewers or this blog's administrator/editor.