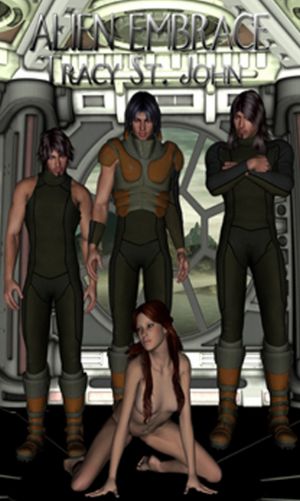 Title: Kalquor Series 1: Alien Embrace
Author: Tracy St. John
Sub-Genre(s): Erotic, BDSM, Sci-Fi
Publisher: New Concepts Publishing
Publication Date: December 14, 2010
ISBN #: B004GEAN9E
Format: eBook from Author
Reviewer: Sam
Rating: 3.5 Cups
Blurb:*
Amelia Ryan fled Earth's fanatically religious government to live quietly among the aliens of Plasius. Her life of peace shatters when a three-man clan from the planet Kalquor kidnaps her and holds her prisoner. 

With their people poised on the verge of extinction, the Kalquorians are determined to have Amelia for their mate. Amelia is equally determined to escape. But when her body thrills to the ruthless domination of her captors, she finds herself surrendering to desires she never imagined possible.
Review:
I don't know how to properly rate this book as I found it a mixture of so many emotions, for me. First I thought the creation of a whole new world and the spin on Earther beings and there repressed sexuality, rather scary but at the same time, taking a time period and darkening it a little bit, rather true.   
I got angry and sad for the lead heroine in this story, Amelia Ryan. She has been through so much and in a way these men from a planet called Kalquor, take her away and adore her body and her as a person.   
Some of the speech is written strangely but that is a way of showing the three men from a different planet. Once you get past that it does sound like an intriguing read.   
Overall it is a good read but I found parts difficult to read. What I would like to say is this is my opinion and that others may find it more agreeable to them.
Available at:
Amazon (Kindle Edition)
Barnes & Noble (Nook book)
--
*Blurb Courtesy of Amazon
**Disclaimer: This book has been provided to Coffee Beans & Love Scenes Reviews free of charge by the author. No money has been exchanged for the review of this eBook. This review reflects the opinion of the individual reviewer and does not necessarily reflect the opinion of the other C&R reviewers or this blog's administrator/editor.