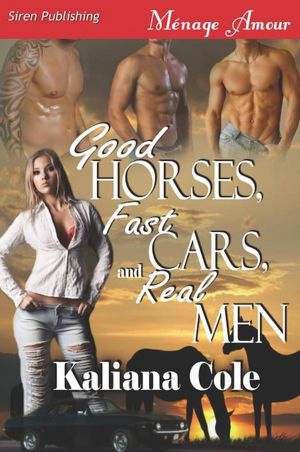 Title: Good Horses, Fast Cars and Real Men
Author: Kaliana Cole
Sub-Genre(s): Erotic, Romance, Menage
Publisher: Siren Publishing
Publication Date: September 7, 2011
ISBN #: 978-1610349628
Format: eBook from Author
Reviewer: Sam
Rating: 4.5 Cups
Blurb:*
Nate, Brett and Matt Kelly desired one girl and one girl only until she disappeared from their lives, leaving a wake of shattered dreams. Fourteen years later, Jade Douglas returns a broken shell of a woman, hiding from the past, struggling to build a future on the dilapidated horse stud her father left her. The Kelly brothers see her return as the answer to their dreams. Jade sees them as a threat to the brittle, protective walls she has built around her. Nate is overbearing and protective but always her safe harbor. Darkly sensual Brett holds the key to her submission. Big Matty has a body to die for and a heart to live by. But are they enough to heal her? After false starts, emotional breakdowns, torrid erotic experiences, and a journey of sensual self-discovery, Jade finds her place in life amid good horses, fast cars, and real men.
Review:
Good Horses, Fast Cars, and Real Men gives you everything. Three super sexy men who are so different and so much a part of this book you would miss them when they're not there.   
Nate, I love for how familiar he was with Jade and the love he feels for her comes natural. Brett is a true dominant and the passion between them is flaming, some super hot sex scenes with him. Matt is adorable, every bit the younger brother but also tempting to Jade. All these men have so much quality and they really do deliver.   
Jade is not your typical female, she fights for what she wants and I love how the author shut her off from feeling anything sexual for all the men and allowed her to deal with her own problems. The men in this story had to deal with going from being the number one focal point to being on the back burner. Absolutely fantastic read and I thoroughly enjoyed every bit of these characters.   
The emotional aspects of the story really add to the depth of characters and their growing feelings towards each other. The intense physical attraction between them helped to understand their love for one another and why they fought it when they were younger.   
A highly recommended read. With three hunky men, a head strong woman, horses and fast cars. 
Available at:
Amazon (Kindle Edition)
Barnes & Noble (Nook book)
--
*Blurb Courtesy of Amazon
**Disclaimer: This book has been provided to Coffee Beans & Love Scenes Reviews free of charge by the author. No money has been exchanged for the review of this eBook. This review reflects the opinion of the individual reviewer and does not necessarily reflect the opinion of the other C&R reviewers or this blog's administrator/editor.