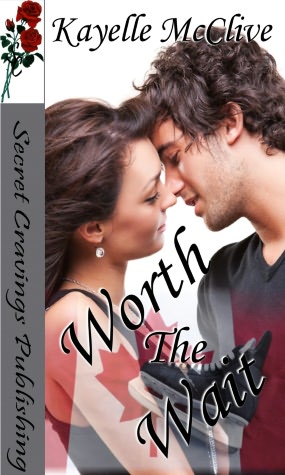 Title: Worth The Wait
Author: Kayelle McClive
Sub-Genre(s): Erotic, Contemporary
Publisher: Secret Cravings Publishing
Publication Date: November 18, 2011
ISBN #: B006A84R6O
Format: eBook from Author
Reviewer: Brynn
Rating: 4 Cups
Blurb:*
Shea Grayson has loved hockey player Shane Stevens for two years. Their on again off again romance has driven her to the point of madness. When he texts her with instructions to meet him at the rink during training camp, she immediately goes, hoping that maybe things might be different. Will he ever give her the commitment she wants this time or is he too broken by his ex-wife to love her?
Review:
McClive's writing style is smooth, eloquent and definitely going to take her places in the publishing world. While in the beginning I was a little concerned with Shane and Shea's attraction and previous hindrance, it became clear as the story was told.
The link and prior union of these two made it easy to root for them to have a happy ending. While their past relationship played a role in them hopping into bed quickly, bypassing the meal to get back to Shane's place, I wish McClive would have used her terrific dialogue to build the tension more. The heightened anticipation was obvious and if McClive had reinforced or added more history, I would have fallen head over heels in love with this story.
I recommend this read and look forward to discovering more of McClive's work in the future. She is an author to watch.
Available at:
Amazon (Kindle Edition)
Barnes & Noble (Nook book)
--
*Blurb Courtesy of Amazon
**Disclaimer: This book has been provided to Coffee Beans & Love Scenes Reviews free of charge by the author. No money has been exchanged for the review of this eBook. This review reflects the opinion of the individual reviewer and does not necessarily reflect the opinion of the other C&R reviewers or this blog's administrator/editor.