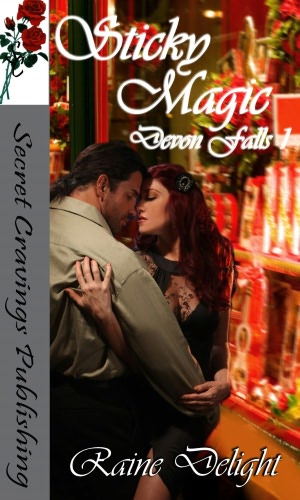 Title: Sticky Magic: Devon Falls 1
Author: Raine Delight
Sub-Genre(s): Erotic, Holiday, Paranormal, Contemporary
Publisher: Secret Craving Publishing
Publication Date: August 1, 2011
ISBN #: B005GMJ3P0
Format: eBook from Author
Reviewer: Brynn
Rating: 4 Cups
Blurb:*
Jenna never expected to see the one man to make her heart spin and her body clench in desire walk into her Candy Shoppe. With just one look, Marc du Bree captures her elusive heart and takes her on a journey that will either make her his for all time or have her run as fast as she can away from him!

Will Jenna be able to accept Marc's secret or will Marc lose the one woman he has been searching for?
Review:
Raine Delight had me scooped into this story. Now, keep in mind I rarely read paranormal novels but this one had a touch of the holiday spirit, which I do love immensely. The characters Jenna and Marc are so believable, lovable and the dialogue and connection are superb.
The history of Marc's family is explained, credible and written beautifully. I also enjoyed the secondary character of Raven, who adds an enigma touch to the story. The links between Marc and Jenna and Raven are brilliant and I got in-depthly in touch with Devon Falls. I am thrilled this is a series and look forward to Book 2.
Welcome Back to Devon Falls...I am seeking Devon Falls: Red Hot Magic next. Thank you Ms. Delight for inviting me in to such a wondrous place.
Available at:
Amazon (Kindle Edition)
Barnes & Noble (Nook book)
--
*Blurb Courtesy of Amazon
**Disclaimer: This book has been provided to Coffee Beans & Love Scenes Reviews free of charge by the author. No money has been exchanged for the review of this eBook. This review reflects the opinion of the individual reviewer and does not necessarily reflect the opinion of the other C&R reviewers or this blog's administrator/editor.