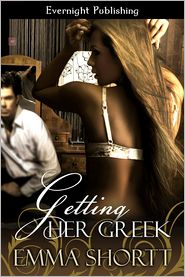 Title: Getting Her Greek
Author: Emma Shortt
Sub-Genre(s): Erotic, Contemporary
Publisher: Evernight Publishing
Publication Date: September 19, 2011
ISBN #: B005OBLIR4
Format: eBook from Author
Reviewer: Sam
Rating: 4.5 Cups
Blurb:*
On assignment to cover the wedding of millionaire businessman, Alexander Iannou, Cassie Reynolds doesn't expect to be accosted by his partner, the enigmatic, and devastatingly attractive, George Constantinou. True she may have gatecrashed, and yes her paper might be a gutter rag, but Cassie won't let little things like that get in the way of a good scoop. If George thinks he can intimidate her he has another thing coming!

George has no problem removing Cassie from the wedding or making sure she leaves town. If he has to take care of those details personally then so be it. The fiery reporter needs some lessons in manners, and it seems that George is just the man to give them to her
Review:
Getting her Greek is the sequel to paying her debt. I read the first book and loved it and now this book is an amazing combination of hot sex, wonderful characters and a great storyline.
Cassie Reynolds is a reporter who gatecrashes, Alexander Iannou's wedding, George Constantinou falls in lust with her from the moment he sees her but has no problem escorting her off the premises. The chemistry is instant between these two and the rest of the story takes you down their path to finding love.
I have to say this book goes from hot to smoking very quickly. I love how Emma Shortt manages to keep me intrigued to know what happens next between these two characters. George is Greek and possessive and the way he falls for Cassie is pure class.
This is a keeper and will not disappoint anyone as it has everything; a full figured woman who's confident with her body, a hot intense Greek and a great love story.
Available at:
Amazon (Kindle Edition)
Barnes & Noble (Nook book)
--
*Blurb Courtesy of Amazon
**Disclaimer: This book has been provided to Coffee Beans & Love Scenes Reviews free of charge by the author. No money has been exchanged for the review of this eBook. This review reflects the opinion of the individual reviewer and does not necessarily reflect the opinion of the other C&R reviewers or this blog's administrator/editor.