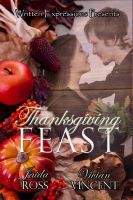 Title: Thanksgiving Feast
Author: Vivian Vincent
Sub-Genre(s): Contemporary, Holiday
Publisher: Self-published
Publication Date: November 2011
ISBN #: B0068O8EAK
Format: eBook from Author
Reviewer: Sam
Rating: 3.5 Cups
Blurb:*
Gloria has accepted her life living on the streets. One cold Thanksgiving Day, she decides to visit a homeless shelter for a shower, a hot meal and a warm bed.

Jonathan is rich beyond his wildest dreams, but his life is unfulfilled, so he volunteers his time at a homeless shelter during Thanksgiving.

When Jonathan and Gloria meet, both their lives are forever changed, by hope and by love.
Review:
Thanksgiving feast was an emotional packed story, quick to read and has some steamy sex mixed in with it.
I thought the beginning part was awful but the ways the reader used the loss to show how some people end up on the streets, eye opening. Gloria and her situation were really touching, you wanted something to come out good from her situation and because of this you will stick to reading the whole thing.
The reason it got one less, star, was because of how fast it moved and the quickness of the romance, I felt it needed a little more time to develop. Other than that I thought it was a quick but lovely read that will certainly get you in the Holiday spirit.
Available at:
Amazon (Kindle Edition)
--
*Blurb Courtesy of Amazon
**Disclaimer: This book has been provided to Coffee Beans & Love Scenes Reviews free of charge by the author. No money has been exchanged for the review of this eBook. This review reflects the opinion of the individual reviewer and does not necessarily reflect the opinion of the other C&R reviewers or this blog's administrator/editor.