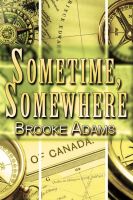 Title: Sometime Somewhere
Author: Brooke Adams
Sub-Genre(s): Romance, Contemporary
Publisher: Excessica Publishing
Publication Date: May 9, 2011
ISBN #: B0051VXDGG
Format: eBook from Author
Reviewer: Sam
Rating: 3 Cups
Blurb:*
Janie Lovell is a brilliant project manager working at the Madrid office of a leading consulting firm. Beautiful and aggressive, she has what it takes to be successful in a man's world and is respected by colleagues and competitors alike. During a trip to the Seattle headquarters, the last thing she expects is to fall in love with the sexy new CEO, Dennis Mitchell. During an action-packed weekend in Canada, the seeds of love are sown.

Destiny reunites them in Paris again a few months later, where Dennis declares his love for her. After going their separate ways, Janie finds out she's pregnant but keeps it from him, not wanting to condition his love. Feeling lonely and miserable, she decides to go back to her native Australia. Before leaving, she spends a few days at her summer house in Ibiza, where she seeks comfort in Diego, her ex-husband. Dennis discovers her secret and unexpectedly appears on the scene, engagement ring in hand, to find her in Diego's arms. He is outraged and leaves, convinced the baby isn't his. A year later, they meet again at the Melbourne office and Dennis sees his son for the first time. Realizing his mistake, this time he's prepared to overcome his fears to win her love back
Review:
Sometime Somewhere had so much potential however I found myself disappointed with the story. The premise sounded great and I was really looking forward to it but I found the build up between Janie and Dennis became slow and drawn out.
The sexual chemistry between the two was well written but, by the time you started to really get into their potential and the story kicking off for real it all seemed to end. Overall I thought it was a good book and I would have loved to rate it higher but with the slow beginning and then the quick ending I didn't feel completely satisfied.
I would have loved to see this as a longer story.
Available at:
Amazon (Kindle Edition)
Barnes & Noble (Nook book)
--
*Blurb Courtesy of Amazon
**Disclaimer: This book has been provided to Coffee Beans & Love Scenes Reviews free of charge by the author. No money has been exchanged for the review of this eBook. This review reflects the opinion of the individual reviewer and does not necessarily reflect the opinion of the other C&R reviewers or this blog's administrator/editor.