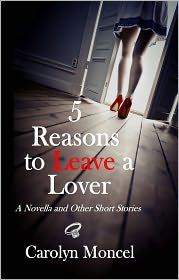 Title: 5 Reasons To Leave Your Lover
Author: Carolyn Moncel
Sub-Genre(s): Romance, anthology
Publisher: Createspace
Publication Date: May 1, 2011
ISBN #: 978-1456339272
Format: eBook from Author
Reviewer: Nikki
Rating: 4 Cups
Blurb:*
Love, trust, commitment, respect and responsibility are elements of a good relationship. When one or more of these elements are missing, it disturbs the natural flow of a relationship, and decisions will need to be made. In 5 Reasons to Leave a Lover: A Novella and Other Short Stories, Carolyn Moncel tells the poignant tales of love, loss, heartbreak and saying goodbye. 

The novella, which consists of three stories, explores how infidelity not only affects the wife and the husband, but the mistress. Ellen Roulet has found proof that her husband, Julien, was not only cheating but is going to leave her. While they have not spoken to each other on this matter, Ellen is outraged and over a course of a couple hours allows her rage to overtake her emotions. During these same hours, Julien, who is away from home, debates with himself on where his heart lies. Kate, the mistress, has much at stake also, as the life of her son and unborn child need financial stability. This gracefully written novella takes you deep into the minds of the parties involved in this love triangle. The characters are all too human and fragile staying with you after you have finished reading. Each sentence is utterly necessary to the overall story and the not-so-perfect ending is reflective of real life.
Review:
"Set Yourself Free, Ellery"
Ellery Roulet is devastated when she finds a letter written by her husband, Julien, to his mistress, Katrine. How does one cope when you find out your spouse no longer wants you and has already started a family with someone else?
There is only one word that can describe Ellery and that's strong. When Ellery discovers that her life isn't as she's perceived it to be she goes through the entire range of emotions and yet remains true to herself. Although her "breakdown" was hilarious, Ellery took the high road. While there was something that prevented me from fully connecting with Ellery, I couldn't help but want to follow along on her road to self discovery.
"Maybe Just Leave, Steve"
Maybe Just Leave, Steve is a cute little story told from a very interesting point of view. It took me a few pages to figure out who the narrator was, but that only enhanced my enjoyment of this story.
"Maybe in Death, Beth"
Maybe in Death, Beth is a very touching story of what happens when one spouse dies after 65 years of marriage. It is a brief glimpse into Herman and his emotions on the day his beloved dies and how she tries to take care of him even in death.
5 Reasons to Leave a Lover by Carolyn Moncel contains a novella and two short stories. This is an interesting combination of story lengths; however, it works because of the connecting theme – lose of love. Each story found in 5 Reasons to Leave a Lover is interesting on its own. If you're looking for something different, this is a book that I would suggest.
Available at:
Amazon (Kindle Edition)
Barnes & Noble (Nook book)
--
*Blurb Courtesy of Amazon
**Disclaimer: This book has been provided to Coffee Beans & Love Scenes Reviews free of charge by the author. No money has been exchanged for the review of this eBook. This review reflects the opinion of the individual reviewer and does not necessarily reflect the opinion of the other C&R reviewers or this blog's administrator/editor.